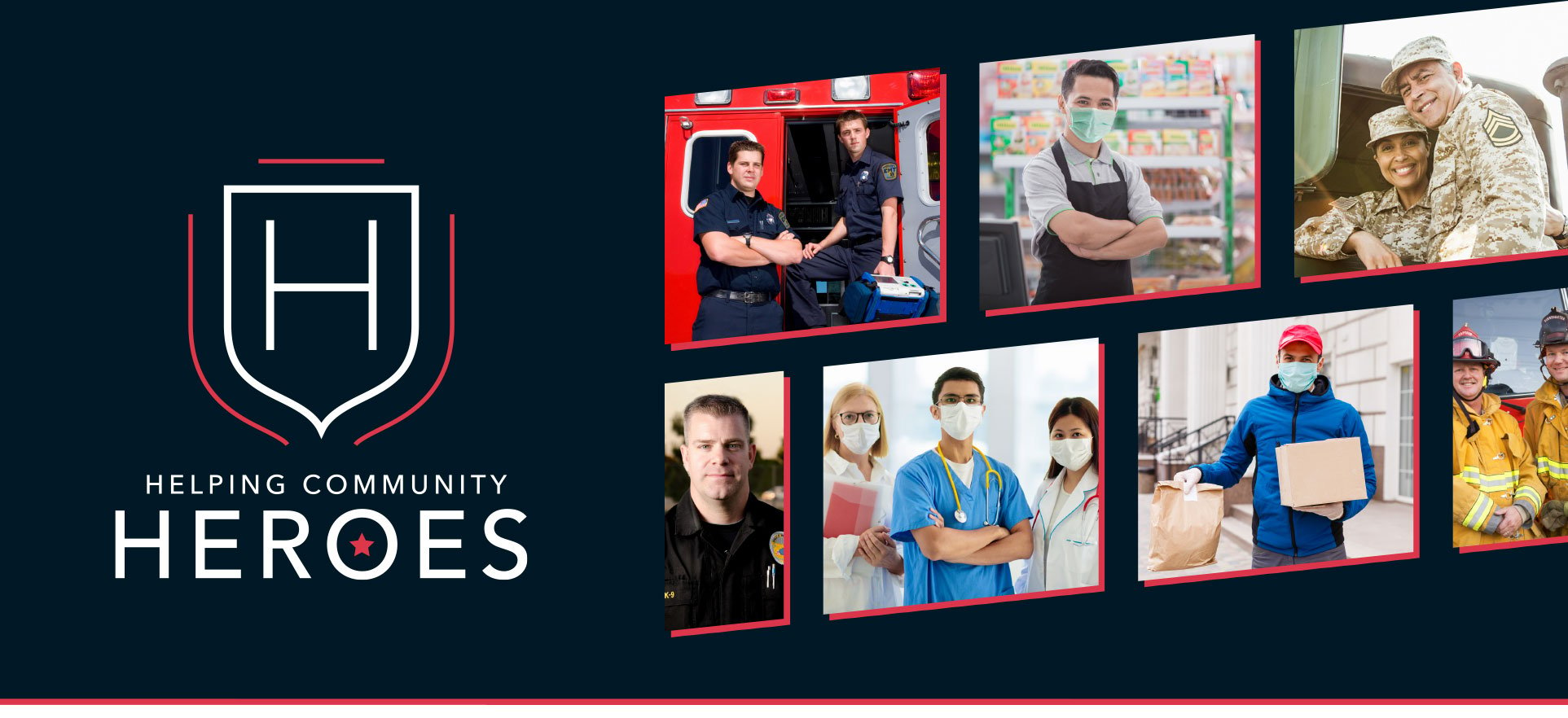 Helping you make housing more affordable
with a ¼% interest rate reduction, free.

To say "thank you" to our essential heroes we will buy down your interest rate by ¼% on your next purchase, and if you have a home to sell, we will offer you substantial SAVINGS as well.

We appreciate that amid COVID-19, First Responders, medical providers, and other essential workers have put everything on the line. To serve you in return, our First Team Family of Companies is making it possible for qualified heroes to take advantage of up to tens of thousands of dollars in SAVINGS when we pay for you to buy down, and reduce your interest rate by ¼% for your mortgage financing for up to 30 years.

Here are the
Possible SAVINGS Examples:*
30-Year Fully Amortized Fixed-Rate Mortgage
with

¼%

Interest Rate Buy Down:

---
$34,278

SAVINGS

on $700,000 Loan Amount
$29,381

SAVINGS

on $600,000 Loan Amount
$24,484

SAVINGS

on $500,000 Loan Amount
$19,587

SAVINGS

on $400,000 Loan Amount

Since 2017, First Team has offered a similar savings program to military households and has been recognized as the #1 contributor to this program nationwide by Leading Real Estate Companies of the World®, the largest network of independent brokerage firms in the U.S.
Take advantage of this program to have us buy down your interest OR apply your substantial SAVINGS directly toward closing costs.
Save TWICE when you buy and sell a home through this limited-time offer.
We thank you for allowing us to stay safe at home.
Now trust us with yours.
For more information on taking advantage of this limited-time offer, contact me.

First Team® Real Estate
Founded in 1976 in Orange County, First Team has been trusted by 250,000 Southern California households for real estate sales and purchases. As a local family-owned business, we are big enough to have the resources and small enough to care.
Homeowners First Mortgage
Homeowners First Mortgage offers hundreds of loan choices to our customers, with our strength rooted in the knowledge and experience of our loan officers. Many of our loan officers have been in the industry for decades and have successfully handled all types of home buying situations. Our team is experienced, professional, and readily available to our customers to answer any questions, address issues, and help them navigate through the mortgage process smoothly.

*Offer provided by First Team Real Estate and may be withdrawn at any time, with or without notice. Offer subject to cooperation of independent brokerage and agent members of the MLS on co-op transactions and consumer's use of First Team Real Estate's affiliate, Homeowners First Mortgage, LLC for financing. Maximum loan amounts apply. Discounts and saving promoted here are estimates only as of 05/6/2021, are based on a market interest rate of 3.25%, and do not bind First Team Real Estate or any of our affiliates. By way of example, a home with a purchase price of $1,000,000 with $700,000 financed at 3.25% / 3.277% APR and borrower-paid closing costs of $2,400 would result in $34,278 in interest savings over a 30-year term. First Team Family of Companies consists of essential services of escrow settlement, title insurance, real estate brokerage, and mortgage finance services. You are advised to seek your own counsel from your accountant or legal advisor. 108 Pacifica, Irvine, CA 92618. Lic# 01008773. © First Team® Real Estate. All rights reserved. This is not intended to solicit a listed property. If your property is currently listed for sale with a broker, please disregard. Financing provided by Homeowners First Mortgage, LLC, 108 Pacifica, Suite 250, Irvine, CA 92618. Corp NMLS#: 1932549 (www.nmlsconsumeraccess.org). Loans made or arranged pursuant to a California Finance Lenders Law license. This communication does not constitute a commitment to lend or the guarantee of a specified interest rate. All loan programs and availability of cash proceeds are subject to credit, underwriting and property approval. Programs, rates, terms and conditions are subject to change without notice. Other restrictions apply.
Testimonials
" Shelley helped us find a beautiful property in Chino at an excellent price. We still work and live out of state and won't be able to move in until at least a year later and really appreciate her efforts and expertise in helping us find well qualified tenants and handle the lease agreement. "
- Kin Lam
" Shelley is very oriented to detail and personally cares about her customers. She was in constant communication during the entire process and handled all issues that arose. I would highly recommend Shelley to other family members and friends. "
- Gene and Laura Ramos
" Shelley is very knowledgeable in the rental market. She did good research to evaluate the market value and possible rental value. Shelley is efficient, working to the best interest for us. She is professional, prompt to respond to our questions, and concerns. She makes good judgment and gives very good advice. She also follows up with matters in the entire process. She thinks ahead for us and help us to look out for every detail and matters regarding renting out our place. At the same time, she is fair to the potential tenants, too. We can trust her with our property because of her expertise and professionalism. She is also very resourceful in providing us with good service providers to handle all aspects of works that need to be done for our property to be a good rental property. She follows up with potential tenants and do every step or the process in a very proper manner. She is very thorough in explaining all the documents and requirements for our property and our responsibilities as a good landlord. A great thank to Shelley and our property is rented out in a short period of time. "
- Angel M Mang
" The Chino home was the fourth property we bought. Shelley is by far the best agent compared to the previous three. We had our ideal house at an excellent price. The advice and services after the sales agreement were unmatched! "
- Kin L Lam
" Shelly was very helpful and the trancation was a smooth process. "
- Ann Zendner
" We did a 1031 Exchange during the summer. Shelley not only help sold our house at a very good price, she also prepared us for the new one by showing us all the available ones in our price range - way ahead of time so that we have an idea what to expect to pay. This prepared us enough that we identified and bought the exchange property as soon as we closed escrow on the first house. Everything went very smooth and we believe we got good and fair prices at both the sell and buy ends. There are a lot of hard work done by Shelley to make this happens! "
- Life Trust (11/18/2005)
" Shelley is great she was helpful during every step of my home buying process. She was able to acquire the condo that I wanted and location I wanted. Shelley stays involved and constantly checked in with me to make sure my process was going smoothly. From negotiating with the builder and clearing any confusion with the lender. She kept me informed of all communication with the seller. She also helped me do the initial walk-through and helped me identify additional things that the sellers should fix. Shelley is very professional, knowledgeable and responsive. I was glad to have her as my real estate agent. I would recommend Shelley to my Family and Friends anytime. "
- Jwalin Champaneria
Previous
Next